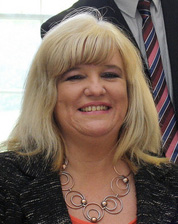 Website: www.derrysinnfein.ie
E-Mail: [email protected]
Phone: 71 377551
Maeve has been involved in political activism since her teens. Politically active during her time at University College Galway she studied Sociology, History and Politics achieving a BA Hons Degree.
On completion of her studies, Maeve was employed for seven years as Manager of Glen Development Initiative (GDI) in Derry. She served as a councillor with Derry City Council for eleven years, holding the position of Sinn Féin Group Leader for six years. During this time she was also a member of the local Derry District Policing Partnership, Tourism Spokesperson and Chairperson of North West Region Cross Border Group.
Co-opted to the Assembly in 2012 as a result of Martina Anderson becoming an MEP, Maeve was appointed to the Committee for Enterprise, Trade and Investment and also to the Committee for Health, Social Services and Public safety.
Since assuming her role in the Assembly, Maeve has been Sinn Féin Spokesperson on the Social Economy. Having been directly involved in the development of Derry's regeneration "One Plan" Maeve is passionate about targeting the levels of economic, physical and social deprivation within the North West Region.
Constituency Office:
Rath Mór Business Park
Eastway Road
Derry
BT48 0LZ
Seirbhís Thoghcheantair Shinn Féin:
Lárionad Gnó Ráth Mór
Bóthar an Oirthir
Doire
BT48 0LZ
Phone: 71 377551
E-Mail: [email protected]
Stormont office:
Room 339
Parliament Buildings
Stormont
Belfast, BT4 3XX
Phone: 90520463