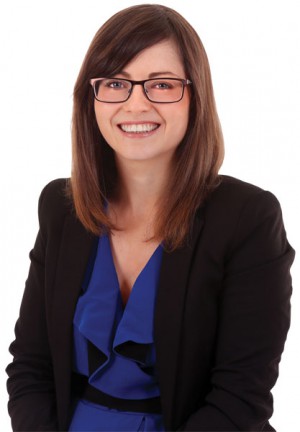 Kathryn Reilly is from Ballyjamesduff, Co Cavan. She has a BA (Hons) in Economics, Politics and Law from Dublin City University and a MEconSc in European Economic and Public Affairs from UCD. She has also just finished a Masters in Public Policy in UCD, specialising in Regulatory Governance.
In April 2011, she was elected onto the Industrial and Commercial Panel of the Seanad and was the youngest ever elected Senator. Before that she missed out on a seat in the Cavan/Monaghan constituency in the general election having secured 6,539 first preference votes in her first electoral outing.
Kathryn started working for Sinn Féin in 2009 for Sinn Féin Finance and Enterprise Spokesperson Arthur Morgan TD and she was the researcher and author of the report "Creating Jobs in the Agri-Food Sector" published by the Joint Oireachtas Committee on Enterprise, Trade and Employment. Coming from a small farm, Kathryn is acutely aware of issues and challenges facing small farmers in ensuring the viability of family farms. Before this, she worked part-time as a credit control agent in Quinn Insurance.
She has been Seanad Spokesperson for Sinn Féin on Finance, Public Expenditure & Reform, and Education. She is party Spokesperson on Youth Affairs. As part of her membership of the Joint Oireachtas Committee on EU Affairs, she was author of a report on Youth Unemployment and the Youth Guarantee, which was endorsed by the committee. As part of this, she hosted an all-Ireland meeting on youth unemployment in Cavan in 2013. She is also a member of the Parliamentary Assembly of the Council of Europe.
Kathryn was a member of the Constitutional Convention that made recommendations to the Government on issues such as voting age, electoral reform, giving voting rights to emigrants, marriage equality, women in politics, and economic, social and cultural rights in the Constitution.
As part of her Oireachtas role, Kathryn is a member of the Oireachtas liaison team for Comhairle na nÓg and was made a Special Olympics Ireland "Oireachtas Champion".
Outside the Oireachtas, Kathryn is an adjudicator for the Concern Schools debating competition. She has also taken part in local charity fundraisers, including a White Collar Boxing fight night and Strictly Come Dancing.
Portfolio: EU Affairs, Youth Affairs
Oireachtas Commitees: Joint Oireachtas Committee on EU Affairs
Member of the Parliamentary Assembly of the Council of Europe
Constituency Office details/Clinic times:
Sinn Féin Office,
39 College Street,
Cavan
Phone: 049 4373510
Email: [email protected] 
Monday, Tuesday, Thursday, Friday 1-5pm. Closed Wednesdays
Oireachtas office:
Phone: 01 6183171
[email protected]