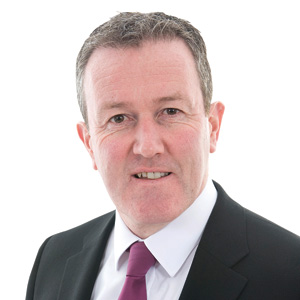 In 2005 Conor Murphy created history when he became the first Irish Republican to be elected as MP for Newry and Armagh. He has since retained the seat in the 2012 elections.
In 1998 after serving as a Newry & Mourne councillor for eight years he was elected to the Assembly where he chaired the Assembly Committee, was the Party Chief Whip and also held the position of Group Leader of the Sinn Féin MLA's in the Assembly.
Conor was re-elected to the Assembly in 2003. He has been the Sinn Féin spokesperson on Education, Equality and International Affairs at various times.
Following his re-election in 2007 he was appointed the Minister for Regional Development, a position that he held until 2011.
Conor was a key member of the Sinn Féin negotiating team with particular responsibility for institutional issues and has represented the party at the Hillsborough, Leeds Castle and St Andrew's negotiations and ongoing negotiations since 1998. The Newry & Armagh MP has in particularly highlighted the issues of de-militarisation and collusion.
A married father with two children Conor has been a lifelong Camlough resident, has a deep passion for the GAA and is an active member of his local GAA Club, involved in coaching and underage football for many years.
 Conor plays an active role in community life in the area, working with the various Community Regeneration, Community Development and Féile Festival Committees and was formerly Chairperson of the Bunscoil an Iúir Board of Governors, as a member of Féile Chamlocha Festival Committee. He has also is closely involved with the Newry City Fair Trade Group.