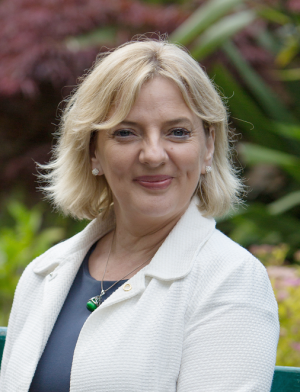 Like Liadh on Facebook.
Follow Liadh on Twitter.
Email Liadh here.
Liadh Ní Riada is a member of the Tom Barry Cumann in Cork and Sinn Féin's National Gaeilge Officer.  From the Muskerry Gaeltacht she is a member of the Party's Ard Comhairle since 2013.  
With a background in media, Liadh has over twenty years' experience of working as a producer and director with RTE and TG4.  She was a member of the Bord which set-up TG4 and developed its broadcasting philosophy and financial structures.  Fluent in Irish and French, she is a vocal advocate for Irish language rights.
Liadh is the youngest daughter of the iconic composer and musician, Seán O' Riada. The O'Riadas contribution both past and present, to Irish national culture coupled with the family's strong republican background make her the 'ideal' Sinn Fein candidate to contest the 2014 European Elections.  A youthful, energetic woman with a passion for politics, she is married to Nicky and the mother of Cáit (13), Ailsa (10), and Neans (7).  
As a mother I am very much aware of the challenges bound up with societal inequalities that families have to deal with.  I am greatly concerned by the growth in child poverty and by the reappearance of soup kitchens and penny dinners in towns and cities across the country.
As a republican activist at local and national level, I see first-hand the impact of austerity and I fervently believe that policies which target low paid workers, families, the unemployed, and the vulnerable must be vigorously opposed.
The interests of Ireland are not currently well represented in Europe. We need to strengthen the voice of the plain people of Ireland. The voice of Sinn Fein needs to be heard. A republican voice that will say enough is enough.  I believe I have the potential to be that voice in Europe.
My biggest strengths are being an Irish mother who knows what struggles are afoot for our children and the vulnerable. This country needs more women in politics to give new influence, direction and leadership. We know from our own sad history the strengths that Republican women can bring to a struggle and I ask you for the opportunity to strengthen my hand.
As Republicans, we now have a unique opportunity to connect with ordinary people. I believe the challenge is to build a united and inclusive Ireland where all of our people are valued and have a real opportunity to reach their full potential. A united Ireland where equality and social and economic justice are to the forefront.   To me, this is what being a Republican all is about.