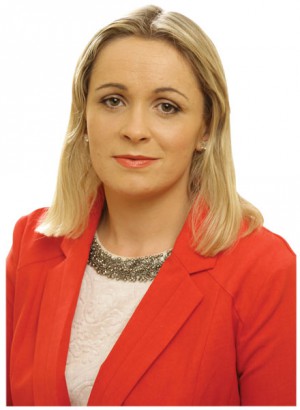 Phone: 1 618 3160
Carol Nolan - Spokesperson on Rural & Community Affairs
Carol Nolan is the Sinn Féin TD in the constituency of Offaly-North Tipperary. From Cadamstown, Carol was first elected to Offaly County Council in 2014 to represent the Birr Electoral Area. She was elected to Dáil Eireann in February 2016 making her the first Sinn Féin TD elected in the Offaly-North Tipperary constituency.
Prior to entering public life, Carol was a Primary School teacher for 12 years where she ultimately held the post of Principal in her local GaelScoil. Her experience as an educator strengthened her commitment to the pursuit of educational equality and mitigating the barriers to educational participation and achievement for those experiencing the most exclusion either by virtue of socio-economic barriers, ethnic discrimination or learning difficulties. During her role as spokesperson on education she was a strong advocate for improvements in access to vital services such as occupational therapy and speech therapy for children with special needs.
Carol graduated with a primary degree in Arts from NUI Maynooth, attained a H. Dip in Education from Merino Institute and in 2011, completed a Masters Degree in Special and Inclusive Education from Froebel College. Prior to taking up public office she was one of five recipients of an educational bursary from the INTO, awarded to commence her PhD studies at NUIG which she began in 2012, but has now deferred in order to dedicate her time to her work as a Teachta Dála. She maintains a strong commitment to the Irish language and is a member of Conradh na Gaeilge.
In her role as spokesperson for Rural Development and Community Affairs she will advocate for equitable investment in rural areas in order to achieve balanced urban-rural development and will support the development of viable, sustainable rural communities. Priorities include the stemming of outward migration through investment in provincial jobs and rural enterprises; improvement of telecommunication infrastructure; provision of adequate housing stock and retention of viable rural services. She also has a strong interest in increasing the participation of women in public life. Secretary of Cadamstown Tidy Towns and holds the post of Secretary of the Sean English Sinn Féin Cumann.
Carol is married to Gerard and they have two children. She is an avid supporter of the local GAA Clubs throughout the constituency.
Constituency Offices
Harbour Street, Tullamore Co. Offaly
Tel: 083 857 9414
Mon-Fri 10:00am – 12 noon
2:00pm – 4:00pm
Green Street, Birr, Co. Offaly
Tel: 087 171 2684
Mon - 7:00pm – 8:00pm
Wed - 10:00am – 11:30am
Fri - 10:00am – 11:30am
Sat - 12 Noon – 1:30pm