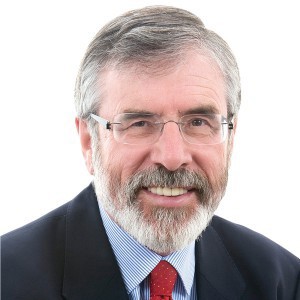 Gerry's Blog: http://leargas.blogspot.ie
Gerry Adams was born in 1948. He became involved in the civil rights campaign in the 1960s and was active in campaigns around discrimination in housing and equal rights.
He was interned without trial in 1972. In July 1972 he was released to participate in secret talks in London. After his re-arrest he tried to escape and was imprisoned. He was released in 1976.
In 1984 he was shot and seriously wounded by a unionist death squad working in collusion with British Intelligence.
Gerry Adams and John Hume initiated the peace process which succeeded in bringing an end to the conflict. He was one of the architects of the Good Friday Agreement which of all-Ireland political institutions and a power sharing Executive in the north of Ireland.
In 2011 he resigned his seat in the British Parliament and was subsequently elected to the Dáil (Irish Parliament) in the general election of February 2011.
He is also the author of 13 books, including: A Pathway to Peace, The Politics of Irish Freedom and Selected Writings, A New Ireland – A Vision for the Future; his autobiographies Before the Dawn and Hope and History - Making Peace in Ireland, An Irish Voice and An Irish Journal.
Constituency Office details/Clinic times:
Drogheda Constituency Office, Unit 6, 84 West St, Drogheda, Co. Louth.
041 987 3823
[email protected]
Mon-Thurs 10am - 3.00pm
Dundalk Constituency Office, 1-2 Crowe St, Dundalk, Co. Louth.
042 932 8859
[email protected]
Monday-Friday 10.00am -5.00pm
Oireachtas contact details: [email protected] or 01 618 4442
Gerry Adams is a voluntary director of Féile an Phobail Community Arts Festival.