Win with Sinn Féin – wherever you are in the world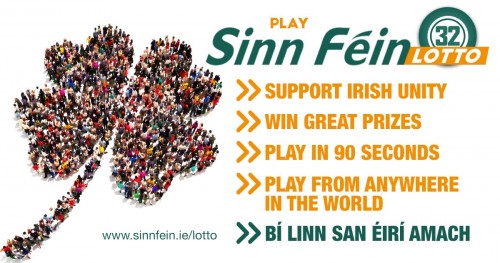 WELCOME to the Sinn Féin Lotto 32 where you can not only help Sinn Féin in our campaign for Irish reunification and the creation of a real 32 county republic based on the principles of the 1916 Proclamation, but where you also have the chance to win the Jackpot cash prize – wherever you are in the world.
Sinn Féin Lotto 32 is drawn every Sunday.
Pick your four numbers from 1 to 32 and buy your ticket here for just  £1 to be in with a chance to hit the Jackpot.
And when you buy a ticket, click the Facebook button to share your support with your friends worldwide.
If you match all four numbers, you win the Jackpot or share it with anyone else who has the same numbers that week.
If there is no winner in any one week, there will be one Lucky Dip prize for £50 until the Jackpot is won.
Then we start again to give you another chance to win with Sinn Féin.
Good luck!