Email: cathalking@cllrs.sdublincoco.ie
[more]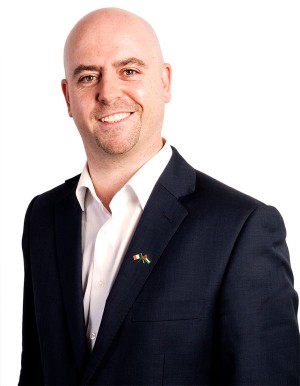 Cllr. Cathal King has been a Sinn Féin Councillor for Tallaght South for more than ten years and is the former Mayor of South Dublin County Council. Cathal has lived all his life in Tallaght and is married to Kim and has two young children. 
He is a full time Councillor and over the last decade has become known as a hard working, straight talking campaigner who gets the job done. Cathal has campaigned vigorously to redress the imbalances and inequalities in the local community in Tallaght by working closely with local people to affect real change. 
Cathal has built a positive reputation for his tireless efforts to address the housing problems in Tallaght. He has promoted positive policy changes within the Council to ensure the best outcomes for the citizens of Tallaght and beyond.  
Cllr King believes that the promotion of our recreational amenities and facilities and the promotion of sport is essential to tackling the scourge of anti-social and criminal activities within our community. He plans to continue to work with the community to empower them in dealing with these problems. 
Cathal King is involved in many local groups including:
Chairperson of the Sports & Community SPC
Director of Tallaght Rehabilitation Project
Board member of Killinarden Community School
Board member of Old Bawn Community School
Patron of Teenline Ireland
Member Tallaght Drugs Task Force
Killinarden Safety Forum