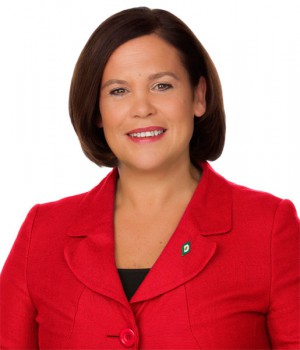 Tel: (01) 8683934
Mary Lou McDonald - Uachtarán Shinn Féin, shadowing An Taoiseach and all-Ireland Spokesperson on Mental Health & Suicide Prevention
Mary Lou McDonald is your TD for Dublin Central, President of Sinn Féin and the party's spokesperson on Public Expenditure and Reform. She was MEP for Dublin from 2004 until 2009 and during her time in the European Parliament; Mary Lou was a prominent member of the Employment/Social Affairs and Civil Liberties Committees.
More recently, she has been to the fore in challenging the Fine Gael/Labour government on the excessive pay and pensions paid out across the top of the public sector. Her role on the Public Accounts Committee has seen her take on vested interests across the political spectrum ensuring real accountability for citizens. Her work on behalf of the survivors of the Magdalene Laundries and Bethany Home has been well recorded.
Educated in Trinity College Dublin, the University of Limerick and Dublin City University she studied English Literature, European Integration Studies and Human Resource Management. Mary Lou and her husband Martin live locally and they have two young children. She has built a strong reputation for hard work through her local constituency offices and her involvement in local campaigns.
Portfolio: Uachtarán Shinn Féin
Oireachtas Committees: Public Accounts Committee, Finance, Public Expenditure and Reform Committee
Constituency Office details/Clinic times:
15 North Strand Rd, Five Lamps. Dublin 1.
Tel: 01 7277102
58 Fassaugh Avenue, Cabra, Dublin 7.
Tel: 01 8683934
Email: [email protected]
Please contact constituency office for clinic times.