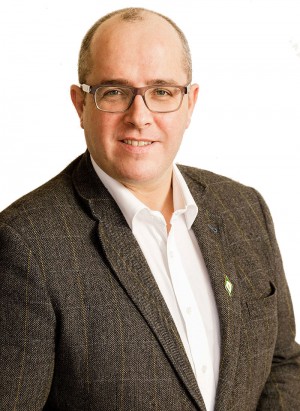 Phone: 0871022726
Chris MacManus is Sinn Féin's MEP for Midlands Northwest. Chris has been active in Republican politics for over 30 years, fifteen of those as an elected member of Sligo Borough Council, and subsequently representing the Sligo\Strandhill Constituency on Sligo County Council. A former chairperson of Sligo Sinn Féin and member of the party's National Executive, Chris has represented Sinn Féin throughout Ireland and abroad.
Coming from a well-known Republican family, Chris is the son of Helen and Sean MacManus and graduated from IT Sligo as an Engineer. Having lost his brother, Joe, during the conflict, Chris recognises the importance of Peace & Reconciliation work and has for fifteen years worked alongside many cross-border and cross-community agencies as well as with Sligo groups impacted by social exclusion. He was appointed as Peace 3's 'Ambassador' at the 2014 Fleadh Cheoil na hÉireann.
Involved in many national and local organisations and campaigns, Chris is recognised as a committed community worker. Active in Sligo's 'Together for Yes' campaign, he organised the Yes Equality Campaign in County Sligo in 2015. He was one of the main spokespersons for the successful County Sligo Right2Water campaign and is also active with the Northwest Palestinian Solidarity Committee.
As a member of the European Parliament Chris is working to secure a fairer deal for family
farmers and rural communities, Protect the economies of border communities post-Brexit, attain funding for the Western Rail Corridor, Get EU Funding for infrastructural projects in Midlands Northwest and Create a forestry strategy that works for farmers, communities and the environment.
Phone: 0871022726
Email: [email protected]
Sligo Office: 16 Upper John St, Sligo