Michael Colreavy TD launches Sinn Féin submission to Green Paper on Energy
---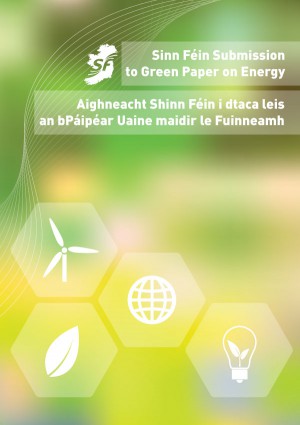 Sinn Féin spokesperson on Communications, Energy and Natural Resources, Michael Colreavy TD, has launched Sinn Féin's submission to the Green Paper on Energy.
Speaking on the issue, Deputy Colreavy said:
"Sinn Féin's submission to the Green Paper on Energy aims to put people at the heart of energy policy in Ireland. Currently, energy policy is being pushed by energy companies. Sinn Féin believes this must change to a policy which reflects the needs and the demands of ordinary citizens. Our energy policy should also be informed by the level of employment opportunities made available by different options.
"The first step the government can take in this refocussing is to rectify the current situation regarding the erection of wind turbines. Sinn Féin's Wind Turbine Regulation Bill 2014 should be brought to committee and remaining stages. This will see proper regulations regarding the construction of wind turbines implemented and give communities piece of mind. We repeat our call on industrial wind farm developments.
"The North/South Interconnector, along with the GridLink and GridWest projects, is controversial. Sinn Féin believes that these transmission cables should be placed underground. It is imperative that all energy infrastructures are compliant with the highest possible safety standards.
"Sinn Féin is committed to renewable energy. However, we feel that the current approach being taken by government is too heavily reliant on wind energy and there should be a mix of renewable sources brought on stream. Sinn Féin has identified tidal/wave and biomass energy as two possible rich sources of renewable energy in Ireland.
"Semi-state bodies must take the lead on developing renewable energy in Ireland. The ESB, Bord na Mona and Coillte have all been identified by Sinn Féin as potential leaders in the field of renewable energy production. With proper focus from government, there is potential to create jobs, create energy and ensure a balanced and secure energy supply into the future.
"Ireland's natural resources must be for the benefit of the people of Ireland. The Minister for Communications, Energy and Natural Resources must adopt a progressive approach to our offshore oil and gas reserves. Sinn Féin calls on the minister to introduce a progressive tax rate of 40%, 60% and 80% dependent on the size of the oil or gas field.
"Fuel poverty is an issue that must be taken seriously by government. There should be no cuts to the National Fuel Scheme and Household Benefits. The government should work to increase the number of homes that are retrofitted for insulation. The minister should also work at a European level to make fuel poverty a central issue across all member states. The Commission for Energy Regulation should be given every assistance possible to ensure that there is a fair, transparent and consumer friend energy market in Ireland.
"An all-Ireland approach should be adapted to energy policy. The North-South Ministerial Council should take responsibility for the Single Energy Market (SEM) project.
"It is demonstrably clear that fracking should not be used anywhere on the island of Ireland. It has yet to be proven that the process of extracting unconventional gas by means of fracking is anyway safe for human health or for the environment. It should never be allowed on a small island like Ireland. Ireland should also remain nuclear free."