Marriage Equality "a huge opportunity to make an awful lot of people happy"– Adams
---
Sinn Féin Leader, Gerry Adams TD has encouraged everyone who can vote, do formally engage with the upcoming Marriage Equality Referendum and vote 'YES' on Friday.
Mr Adams was speaking at the Yes Equality bus in Stephan's Green today alongside Deputy Leader Mary Lou McDonald, Martin Ferris TD as well as councillors Fintan Warfield, Denise Mitchell and Janice Boylan.
Deputy Adams said:
"It's all down to the people. Sinn Féin has been clear that we're calling for a 'yes' vote. There have been aspects of the debate that have been misleading, disingenuous and offensive but I think the majority of people have engaged in debate in a respectful and tolerant way.
"The highlight of this debate has been listening to people who may be gay or lesbian, coming out, standing up and talking about their experiences in very human and personal way which I think takes great courage. It's a sign of our society and our coming to terms with all these issues of equality.
"So what we must do now is ensure that we vote yes for marriage quality. It is time for us to formally engage with this very progressive referendum.  
"We all know someone who is gay, and they should be treated in exactly the same way as everybody else. It doesn't threaten anyone; it's not a religious issue, so I just want to appeal to people to come out and vótáil tá ar son cearta daoine aeracha.
"We have a huge opportunity to make an awful lot of people happy, and wouldn't that be a great thing to do on Friday. Caith do vóta, agus vótáil 'TÁ'. "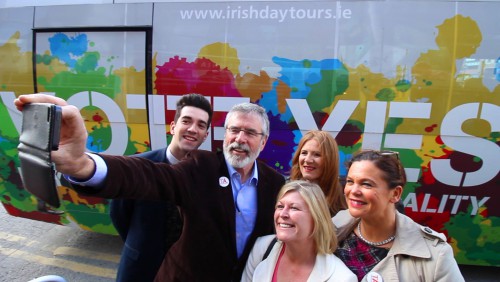 *Marriage Equality Bus Photo 1 from left to righ
t - Mayor of Dublin South Cllr Fintan Warfield, Gerry Adams TD, Cllr Denise Mitchell, Cllr Janice Boylan, Mary Lou McDonald TD