Right2Water to agree policies for progressive Irish government – Ó Snodaigh
---
*Sinn Féin submission to Right2Water attached
Sinn Féin Spokesperson on Social Protection, Aengus Ó Snodaigh TD, has commended the progress made by the Right2Water group in advance of their second conference aimed at developing policies for a progressive Irish government.
The conference is backed by five major trade unions, (Unite, Mandate, CWU, CPSU, OPATSI) and comprises of political parties of the left and community activists. Sinn Féin representatives include MEP Lynn Boylan and Senator David Cullinane who were also in attendance today.
Deputy Ó Snodaigh said:
"Right2Water has provided a focus for an unprecedented social movement, helping to mobilise hundreds of thousands of people in a relatively short period against the water charges and Irish Water and against the wider austerity agenda.
"Sinn Féin supports the initiative and will continue to be actively involved in developing these principles.
"The Right2Water unions in particular have played an important part in ensuring the ongoing success of the campaign. They have provided essential leadership and resources for marches, meetings and this political initiative.
"There is a legitimate expectation that the movement can and should be developed, aiming not only to defeat the water charges but austerity itself. Crucially, in order to do this, the credible alternative to austerity must be put forward. That alternative is a political and economic approach based on equality and aimed at a real recovery for all, leaving none in our society behind.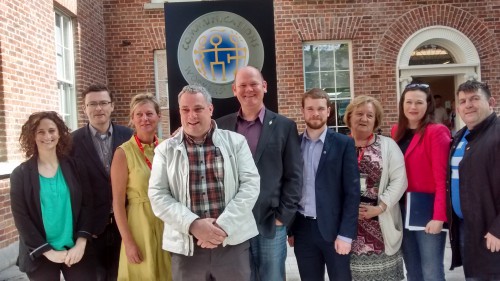 "However, it is important that any agreed set of principles and debate is on an All Ireland basis. The effects of inequality and austerity do not stop at borders.
"The Irish Peace Process, despite its limitations, has been a transformative and progressive process. We need to build on its achievements.
·         Full implementation of the international agreements - the Good Friday Agreement & St Andrew's Agreement.
·         Establishment of an independent commission of peace & reconciliation.
·         The development of All-Ireland co-operation on as broad a basis as possible.
·         The right to pursue the goal of Irish unity and independence by peaceful and democratic means.