Ó Clochartaigh lobbies British politicians on Diaspora issues
---
*Leagan Gaeilge thíos - Irish version follows
Sinn Féin Diaspora spokesperson, Trevor Ó Clochartaigh, has been lobbying established and newly elected MP's in Westminster on issues relating to Irish emigrants.
Speaking from London today he says:
'I met with MP's from across the political spectrum in Westminster - Labour, Tory, SNP and others and I highlighted the needs of our people in Britain with them.
'It is clear to me that our Irish citizens in Britain are facing significant challenges. Not least of these is the Tory austerity agenda which is going to attack social and community services across the board. Civic groups and those supporting Irish people in Britain are also concerned for their future supports under the new Conservative government.
'Irish people are also facing significant challenges if they wish to return home to Ireland and union leaders, civic and community representatives outlined their concerns to me on this. These cover access to housing, social supports, as well as practical issues around opening bank accounts, health and car insurance and access to education for their families.
'High on the agenda also is the question of voting rights for the Diaspora and representation in our political institutions. Our government has been talking the talk, but are very slow to move on these issues and Irish people in Britain are voicing their frustration with me in this regard.
'The Galway West – South Mayo Senator attended a reception hosted by Sinn Féin MP's Pat Doherty, Francie Molloy, Mickey Brady and Paul Maskey with Deputy First Minister Martin McGuinness in which he gave an overview of the very challenging political situation in the north at present and the devastating impact that austerity policies of the new British government could have on the political institutions and the peace process there.'
Senator Trevor Ó Clochartaigh with Angus Brendan McNeil MP who represents the Western Isles of Scotland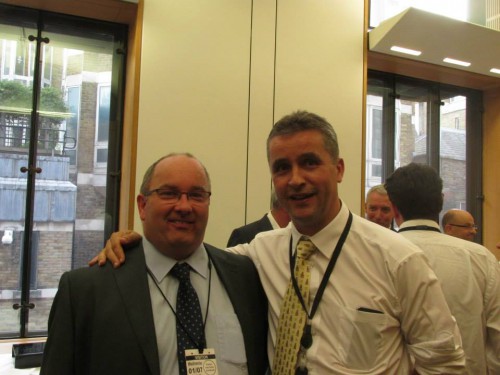 An Seanadoir Trevor Ó Clochartaigh i gcuideachta Aonghas Brianna McNill BP a dhéanann ionadaíocht ar na h-Eileana an Iar in Alban
Ó Clochartaigh ag cur brú ar Fheisirí na Breataine faoi chearta Diaspóra
Tá urlabhraí Diaspóra Shinn Féin, Trevor Ó Clochartaigh, tar éis a bheith ag stocaireacht le feisirí parlaiminte i Westminster maidir le cearta na n-inimirceach Éireannach.
Ag labhairt dó inniu as Londain deir sé:
'Chas mé le feisirí ó chuile pháirtí polaitiúil i Westminster – an Lucht Oibre, na Caomhaigh, SNP agus eile agus d'ardaigh mé riachtanais pobal na hÉireann sa Bhreatain leo.
'Tá sé soiléir domsa go bhfuil dúshlán shuntasacha roimh pobal na hÉireann sa Bhreatain. Ceann de na cinn is suntasaí a fheictear dom ná ciorruithe déine na dTóraithe, a dhéanfaidh ionsaí ar sheirbhísí sóisialta agus pobail trasna na tíre. Tá imní chomh maith ar ghrúpaí sibhialta agus iad siúd a thacaíonn leis na Gaeil sa Bhreatain maidir le tacaíocht leanúnach ó rialtas na gCaomhach amach anseo.  
'Tá bacanna soiléire roimhe Éireannaigh atá ag iarraidh teacht abhaile chomh maith agus labhair ceannairí ceardchumainn, ionadaithe pobail agus sibhialta fúthu sin liom freisin. Áirítear anseo fáil ar thithíocht, tacaíochtaí sóisialta, chomh maith le deacrachtaí le rudaí praiticiúla ar nós cuntais bainc a oscailt, árachas sláinte agus gluaisteáin a ghlacadh agus rochtain ar oideachas dá gclanna.
'Go h-áird ar liosta na n-éileamh freisin dar ndóigh tá cearta vótála don diaspóra agus ionadaíocht inár institiúid pholaitiúla. Tá rialtas s'againne ag déanamh cuid mhaith cainte faoi seo, ach tá an dul chun cinn thar a bheith mall agus tá muintir na hÉireann sa Bhreatain ag léiriú a gcuid frustrachas ina leith seo liom.
'Bhí Seanadóir Ghaillimh Thiar – Maigh Eo Theas i láthair ag ócáid a d'eagraigh Feisirí Parlaiminte Shinn Féin – Pat Doherty, Paul Maskey, Francie Molloy agus Micky Brady, le Leas Chéad Aire an Tuaisceart, Martin McGuinness inár thug seisean léargas ar an tsáinn dáiríre ina bhfuil an phróiseas pholaitiúil ó thuaidh agus na h-impleachtaí damanta a bheidh ag polasaithe déine rialtas na Breataine ar na h-institiúid pholaitiúla agus an phróiseas síochána ansin má leantar leo.'