Sinn Féin commits to 10,000 social and affordable houses for South Dublin
---
Sinn Féin Councillor Eoin Ó Broin has said that Sinn Féin's new housing policy commits the party to funding 10,000 social and affordable housing units for South Dublin County Council over 15 years with 3,000 of these being delivered in the first six years .The document, Better 4 Housing, was launched last week by Sinn Féin this week by Mary Lou McDonald TD, Dessie Ellis TD and Cllr Eoin Ó Broin.
Cllr Ó Broin said:
'There are almost 9,000 families on the South Dublin County Council housing waiting list. There are 248 families living in emergency accommodation and a further 43 on a waiting list for emergency accommodation. The housing and homeless crisis in the County has never been worse.  
'The only solution to this crisis is to provide people with homes. This means that central government must start funding large scale social and affordable housing provided by local authorities and housing associations.
'Last Friday Sinn Féin launched our response to the housing crisis. The 37 page policy document, Better 4 Housing, outlines Sinn Féin's commitments on social housing, the private rental sector and the private for purchase market.
'At the centre of our proposals is a 15 year plan to fund and build 100,000 social and affordable Council houses across the state. These houses would not only meet the need of those families on council waiting lists. It would also reduce the pressure on the private rental and first time buyer markets resulting in reduced rents and house prices.
'South Dublin County Council has 10% of the state's housing need. As part of the Sinn Féin plan we believe Government should fund a programme of 10,000 social and affordable houses in the County.
'Sinn Féin in government would initially fund a programme of 3,000 social and affordable houses in the County, to be delivered by the Council at an approximate cost of €525m. The funding would come directly from the exchequer.
'Fine Gael and Labour want to fritter this money away in tax cuts for the wealthy. Sinn Féin has a different set of priorities; we want to end the housing crisis.
'Additional units would also be provided through Housing Associations and from private units purchased via Part V of the planning acts.
'Our new housing policy also calls for tighter regulation of the private rental sector including the linking of rents to the Consumer Price Index and limiting the grounds on which landlords can issue Notices to Quit. Rent certainty and security of tenure are vital if people living in the private rental sector are to be properly protected.
'We are also committing to increase central government funding to address the homeless crisis by €30m and to reforming all state supports for people living in the private rental sector.
'Sinn Féin's comprehensive housing policy outlines a fully costed 15 year plan for transforming the dysfunctional housing system created by Fianna Fáil, Fine Gael and Labour into a modern housing system with provides all people with good quality, secure and affordable accommodation irrespective of their income.'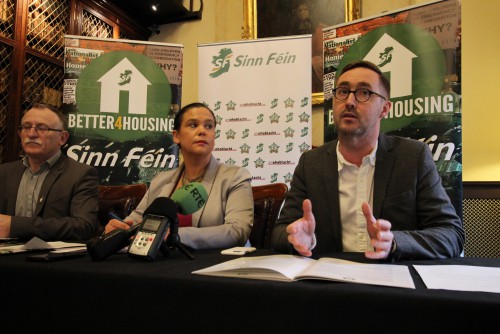 Photo: Dessie Ellis TD, Mary Lou McDonald TD and Cllr Eoin Ó Broin at the laucnh of Better 4 Housing
Sinn Fein housing document: http://issuu.com/sinnfeinireland/docs/housingdoc_dec2015_web?e=3948085/31814945