Beidh pobail Ghaeltachta níos Fearr As le Sinn Féin – An Seanadóir Trevor Ó Clochartaigh
---
Ag labhairt dó ag seoladh feachtas an pháirtí "Margadh Nua don Iarthar", deir an Seanadóir agus an iarrthóir olltoghcháin i nGaillimh Thiar- Maigh Eo Theas, Trevor Ó Clochartaigh go ndéanfaidh Rialtas a mbeadh Sinn Féin i gceannas air leas níos fearr do phobail Ghaeltachta.
Deir an Seanadóir Ó Clochartaigh:
"Tá Sinn Féin dáiríre ag iarraidh a bheith mar ghlór láidir don Iarthar, mar ghlór láidir do phobail atá imeallaithe ag polasaithe éagsúla rialtais agus mar ghlór láidir dóibh siúd nach mothaíonn an téarnamh eacnamaíochta mórán go fóill.
"Níl aon áit a bhfuil neamhshuim Fhianna Fáil, Fine Gael & an Lucht Oibre le brath ná sna pobail Ghaeltachta.
"B'éigean do na pobail seo tabhairt faoi na sráideanna le bunseirbhísí a chosaint ar nós seirbhísí aeir & farantóireachta agus na scoileanna beaga Gaeltachta.
"Baineadh a gcearta daonlathacha dóibh nuair a cuireadh deireadh leis na toghcháin dhíreacha chuig bord Údarás na Gaeltachta agus teip iomlán an rialtais seo maidir leis an Straitéis 20 Bliain don Ghaeilge a fheidhmiú.
"Seasfadh Rialtas le Sinn Féin go láidir ar son an teanga agus na pobail a labhrann í.
"Chinnteodh Rialtas le Sinn Féin go dtabharfaí ar ais toghchán dhíreacha chuig bord Údarás na Gaeltachta agus cuirfear breis maoiniú caipitil ar fáil chun tacú le forás eacnamaíochta na gceantair Ghaeltachta a chur chun cinn.
"Láidreoidh Rialtas le Sinn Féin Acht na dTeangacha Oifigiúla agus déanfar athbhreithniú iomlán ar chur i bhfeidhm na Straitéise agus cuirfear plean gnímh in áit le straitéis nua a chur ina áit a dhéanfaidh cosaint ar thodhchaí na teanga.
"Cuirfidh Sinn Féin faoiseamh chánach ar fáil do theaghlaigh a chuireann a gcuid gasúir chun na Gaeltachta  ag foghlaim Gaeilge agus troidfidh muid ar son deire a chur leis an maolú ar an nGaeilge san Aontas Eorpach.
"Tá sé in am Rialtas a thoghadh a bhfuil suim agus meas acu ar thodhchaí na Gaeilge agus na pobail Ghaeltachta.
"Cinnteoidh vóta do Shinn Féin margadh níos fearr do na pobail Ghaeltachta".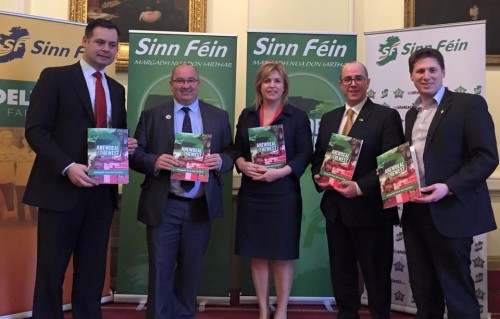 Pic: Pearse Doherty TD, Trevor Ó Clochartaigh Seanadóir/Senator, Cllr. Chris McManus (Sligo/Sligeach), Cllr Rose Conway Walsh (Maigh Eo/Mayo), Matt Carthy MEP/Feisire Eorpach.
Gaeltacht Communities will be Better off With Sinn Féin – Senator Trevor Ó Clochartaigh
Speaking at the launch of the party's "A New Deal for the West" policy document in Dublin, Local Senator and candidate for Galway West/ South Mayo, Trevor Ó Clochartaigh has said that a Sinn Féin led Government will deliver for Gaeltacht communities.
Senator Ó Clochartaigh said:
"Sinn Féin is committed to being a strong voice for the west, a strong voice for the communities that have been marginalised by the policies of successive governments, a strong voice for those yet to feel any signs of economic recovery.
"Nowhere is the neglect of Fianna Fáil, Fine Gael and Labour so evident as in our Gaeltacht communities.
"These communities have been forced to protest to save basic services such as the air & ferry transport services to the mainland and small Gaeltacht schools.
"They have been disenfranchised by the removal of direct elections to the board of Údarás na Gaeltachta and the complete failure of the Government to implement the 20 Year Strategy for the Irish language.
"A Sinn Féin led government will stand up for our language and for the communities that speak it.
"A Sinn Féin led government will restore direct elections to Údarás na Gaeltachta as well as providing additional capital funding to promote economic growth in Gaeltacht areas.
"A Sinn Féin led government will strengthen the Official Languages Act and undertake a complete review of the implementation of the 20 year Irish language strategy and an action plan to develop a new strategy that will protect the future of the language.
"Sinn Féin will also deliver tax relief to families who send children to the Gaeltacht and strive for the elimination of the derogation of the Irish Language at EU level.
"It is time to elect a government that cares about the future of the Irish language and Gaeltacht communities.
"A vote for Sinn Féin is a vote to secure a better deal for the Gaeltacht."
ENDS