HSE reneging on critical supports for MND sufferer – Senator Ó Clochartaigh
---
The HSE are reneging on promises they made to provide critical support for a Motor Neuron Disease sufferer who underwent emergency surgery today, according to Sinn Féin Senator, Trevor Ó Clochartaigh.
Speaking from Galway today, the Senator says:
"Andrew Lydon has fought a long and hard battle against Motor Neuron Disease. He started his own successful campaign to raise funds to support him having a life extending operation and towards the aftercare needed and he got huge support from the local community.
"Due to a deterioration in his condition, Andrew had his tracheotomy operation this morning, but it is my understanding that this was only done on the condition that the family take him home from hospital on Tuesday and take full responsibility themselves for his aftercare.  Neither SAOLTA Hospital group, nor the Primary, Community & Continuing Care section of the HSE were willing to do that and the onus has now been placed on the family to train, source and hire suitably qualified people to do this by Tuesday.
"The Andrew Lydon Trust fund was set up to raise funding to help support the aftercare needed. The understanding was that the tracheotomy operation, which it is hoped will considerably extend Andrew's life expectancy, would be needed to be done at short notice. It had been agreed with the HSE that the Trust Fund would fund a portion of the aftercare cost and that they would provide the rest. They indicated it would cost in the region of €300,000 per year at that time and €130,000 plus was raised by the Trust Fund to start with.
"This week, when the aftercare decision needed to be taken, the HSE revised their figure to €700,000 and said they couldn't afford it, so could not support the aftercare if the tracheotomy went ahead. The hospital then said that they would not keep Andrew in hospital any longer than two or three days post-operation, leaving the family in an impossible situation. They had to take responsibility.
"The Consultant involved is happy that the family, with support from other carer and local health supports, will be able to provide the level of care needed by Andrew and therefore the operation went ahead.
"The bottom line here, in my opinion, is that the HSE are washing their hands of their responsibilities in relation to Andrew's healthcare. They had plenty of time to have appropriate measures put in place to deal with this eventuality and they have failed completely. That is utterly unacceptable.
"I am calling on the HSE to re-engage with the Lydon family to ensure they do their duty and provide appropriate aftercare immediately  and on a continuing basis, to help him live as long as possible and not put the burden on the family, who have enough on their plate at this very stressful time."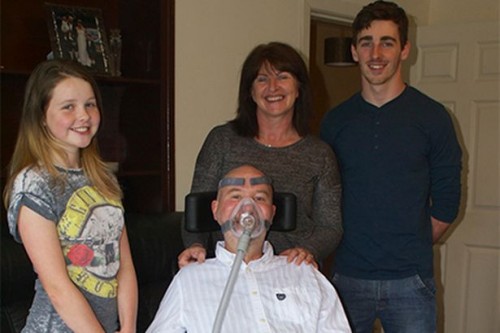 Feidhmeannacht na Seirbhíse Sláinte ag cúlú maidir le tacaíocht riachtanach a thabhairt d'fhear leis an nGalar Néarón Luadrach – Ó Clochartaigh
Tá Feidhmeannacht na Seirbhíse Sláinte ag dul siar ar gheallúintí a rinne siad maidir le h-iarchúram chriticiúil a sholáthar d'fhear a bhfuil an Galar Néarón Luadrach air, a chuaigh faoi scian d'obráid éigeandála ar maidin, dar le Seanadóir Shinn Féin,  Trevor Ó Clochartaigh.
Ag labhairt dó inniu as Gaillimh, deir an Seanadóir:
'Tá cath fada, anróiteacht troidthe ag Andrew Lydon i gcoinne an Galar Néarón Luadrach. Thosaigh sé a fheachtas féin chun airgead a bhailliú le go gcuirfí obráid air a thabharfadh saol níos faide dhó agus i dtreo an iarchúram a theastódh uaidh agus fuair sé tacaíocht ollmhór ón bpobal áitiúil chuige.
'Cuireadh an óbráid tracheotomy air maidin inniú taréis dha shláinte dul in olcas, ach an tuiscint atá agam ná nár déanadh an obráid ach ar an gcoinníoll go dtógfadh a chlann abhaile De Máirt é agus go nglacfaidís freagracht iomlan as an iarchúram dó. Níl an grúpa Ospidéil SAOLTA ná an rannóg Cúram Príomhúil, Pobail & Leanúnach don FSS sásta sin a dhéanamh agus tá an dualgas leagtha anois ar an gclann daoine a aimsiú, a earcú agus  a oiliúint roimhe Dé Máirt seo chugainn chuige.
'Bunaíodh Fondúireacht Andrew Lydon le airgead a bhailliú chun tacu leis an iarchúram a theastódh. An tuiscint a bhí ann ná gur faoi dheifir a bheadh gá an obráid tracheotomy a theastódh le fad a chur le saol Andrew a dhéanamh. Bhí sé socraithe le FSS go n-íocfadh an Fhondúireacht as sciar den iarchúram agus go gcuirfidís féin an chuid eile ar fáil. Thug siad le fios ag an am gur thart ar €300,000 an costas a bhainfeadh leis agus ag an am sin bhailligh an Fhondúireacht ós cionn €130,000 mar thús.  
'An tseachtain seo, nuair a bhí ga an cinneadh a ghlacadh maidir le h-iarchúram, d'athraigh FSS an meastachán chuig €700,000, dúirt nach raibh siad in acmhainn íoc as, agus dá bhrí sin nach raibh siad ábalta an iarchúram a chur ar fáil dá leanfaí ar aghaidh leis an tracheotomy. Deir údarais an Ospidéil chomh maith  nach gcoinneoidis Andrew san ospidéal níos mó ná dhá nó trí lá taréís na h-obráide, ag fágáil an chlann idir charraig agus cloch mhór. Bhí orthu freagracht a ghlacadh.
'Tá an Dochtúir Comhairleach atá i gceist sásta go bhfuil an clann, le tacaiocht ó chúramóirí agus oibrithe sláinte breise eile, ina ann an leibhéal iarchúram a theastaíonn ó Andrew a chur ar fáil dó agus dá bhrí sin leanadh leis an obráid.
'Bun agus barr an scéil anseo ná, i mo thuairim, tá FSS ag ligean a gcuid maidí le sruth maidir leis an dualgas atá orthu ó thaobh cúram sláinte Andrew. Bhí neart am acu leis na socruithe cuí a bheith déanta acu le deileáil leis an gcás seo agus theip go h-iomlán orthu. Ní féidir glacadh leis sin.
'Tá mé ag impí ar FSS anois dul i gcomhairle le clann Andrew láithreach le cinntiú go gcomhlíonann siad na dualgaisí atá orthu chun seirbhísí iarchúram ceart a chur ar fáil láithreach agus ar bhonn leanúnach, le cur le saol Andrew agus gan ualach breise a chur ar an gclann, atá faoi brú sách mór cheana féin ag an staid ina bhfuil siad.'