Gaeltacht Communities will be Better off With Sinn Féin – Senator Trevor Ó Clochartaigh
---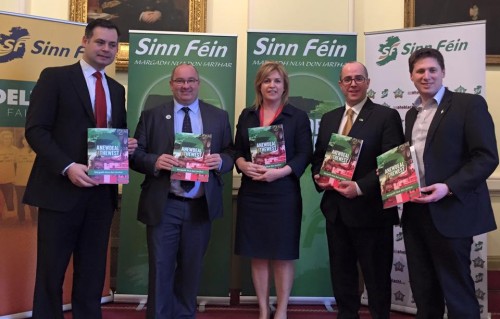 Speaking at the launch of the party's "A New Deal for the West" policy document in Dublin, Local Senator and candidate for Galway West/ South Mayo, Trevor Ó Clochartaigh has said that a Sinn Féin led Government will deliver for Gaeltacht communities.
Senator Ó Clochartaigh said:
"Sinn Féin is committed to being a strong voice for the west, a strong voice for the communities that have been marginalised by the policies of successive governments, a strong voice for those yet to feel any signs of economic recovery.
"Nowhere is the neglect of Fianna Fáil, Fine Gael and Labour so evident as in our Gaeltacht communities.
"These communities have been forced to protest to save basic services such as the air & ferry transport services to the mainland and small Gaeltacht schools.
"They have been disenfranchised by the removal of direct elections to the board of Údarás na Gaeltachta and the complete failure of the Government to implement the 20 Year Strategy for the Irish language.
"A Sinn Féin led government will stand up for our language and for the communities that speak it.
"A Sinn Féin led government will restore direct elections to Údarás na Gaeltachta as well as providing additional capital funding to promote economic growth in Gaeltacht areas.
"A Sinn Féin led government will strengthen the Official Languages Act and undertake a complete review of the implementation of the 20 year Irish language strategy and an action plan to develop a new strategy that will protect the future of the language.
"Sinn Féin will also deliver tax relief to families who send children to the Gaeltacht and strive for the elimination of the derogation of the Irish Language at EU level.
"It is time to elect a government that cares about the future of the Irish language and Gaeltacht communities.
"A vote for Sinn Féin is a vote to secure a better deal for the Gaeltacht."