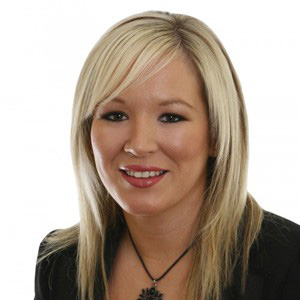 Twitter: www.twitter.com/moneillsf
Facebook: www.facebook.com/michelle_oneill
Email: [email protected]
Michelle O'Neill is married to Paddy and they have two children, Saoirse and Ryan and is currently the Minister for Agriculture and Rural Development in the Assembly.
Michelle has been involved in political activism since a young age and has held various senior positions in Mid-Ulster Sinn Féin.
Michelle has a strong background in social welfare issues and is a qualified welfare rights advisor. From the Good Friday agreement was signed she worked as a Political Advisor to Francie Molloy from 1998 when the Assembly was established, up until she was elected to Council in 2005.  In 2010 she became the first woman to take on the role of Mayor.  Alongside her council role in 2007 she was elected to the Assembly and held positions of health spokesperson and sat on the education committee. 
In May 2011, she was appointed as Minister for Agriculture and Rural Development
In her time in the council Michelle was a strong voice for equality and in particular in promoting the role of woman in community and public life. Michelle has been an active member of a number of community groups and organisations. 
Coming from a rural community Michelle has always had a keen interest in rural issues and maintaining the rural way of life.   She is a member of Clonoe O'Rahillys GAA group.
Portfolio: Minister for Agriculture & Rural Development
Constituency Office:
Coalisland Sinn Féin Office
9 The Square
Coalisland
Co.Tyrone  BT714LN
Phone: 02887 748689
Email: [email protected]
Mon- Fri 9.30am – 4.00pm
Last updated: 28th May 2013