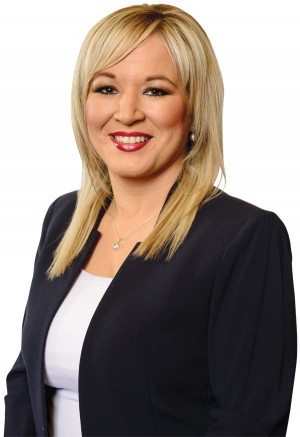 Michelle O'Neill has been involved in republican politics from her teens and has held various senior positions within Sinn Féin.
A qualified welfare rights advisor, Michelle has a strong background in social welfare issues.
She has worked in the Assembly since 1998, initially as political advisor to Francie Molloy, before being elected to Dungannon and South Tyrone Borough Council in 2005.
In 2010 she became the first woman to hold the position of Mayor of the Dungannon council area.
Michelle was elected to the Assembly for the Mid Ulster constituency in 2007, sitting on the education committee and serving as Sinn Féin's health spokesperson.
In 2011 she was appointed as Minister for Agriculture and Rural Development and in that role has overseen significant growth in the agriculture industry and strengthened all-Ireland agricultural links.
Michelle has delivered a record-breaking Rural Development Programme to support farmers and those living in rural areas.
She has also delivered improvements in the Single Farm Payments allowing farmers to access payments quicker.
Michelle is the first Executive minister to decentralise a government department with the relocation of the DARD headquarters to Ballykelly in County Derry. Alongside moving her Rivers Agency Headquarters to Cookstown creating 80 jobs in Mid Ulster.