Reduce and freeze rents
Reduce and freeze spiralling rents to give private renters a break and put a month's rent back into their pockets through a rent reduction tax relief.
Cut waiting lists
Halve the council housing waiting list during one term of government through our council-led building programme on public land and clear the waiting list within the decade.
Increase supply of affordable homes
Fine Gael and Fianna Fáil policies have put owning a home out of the reach of ordinary people. With our council-led building programme on public land, we will increase the supply of affordable homes for average workers to purchase or rent at below market rates.
Create sustainable communities
Sinn Féin will create housing estates with good amenities and infrastructure for people of all incomes. These will provide sustainable communities for generations to come.
Security of tenure
Sinn Féin will legislate for tenancies of indefinite duration to provide renters real security of tenure.
Tackle the homeless crisis
The number of adults and children in emergency accommodation has reached historic highs. More and more families are in over-crowded and unsuitable accommodation. Sinn Féin is committed to ending long-term homelessness and the need to sleep rough within the term of Government.
End the selling-off of public land
Sinn Féin will ensure publicly-owned land banks are used to provide council and affordable housing. We will end public-private partnership, joint venture capital land initiatives and public land sell-offs.
RAS and HAP tenancies
Remove RAS and HAP tenancies from the legal definition of council housing to reflect the temporary nature of these tenancies and the fact tenants in these schemes do not have long-term security of tenure.
Develop design and lifetime adaptability regulations
New buildings must cater for the entire life cycle accommodating and satisfying the needs of people with disabilities. Sinn Féin will develop universal design and lifetime adaptability guidelines and regulations as well as increasing funding required for adaptations.
Landlord tax review
Review tax treatment of landlords to ensure equity of esteem among all categories of landlords and bring an end to tax breaks that provide no real return to the housing system.
Abolish the Local Property Tax and reduce mortgage interest rates
Sinn Féin will abolish the Local Property Tax and legislate to make Central Bank instruct the banks to lower their rates.
Enshrine the right to housing in the constitution
Sinn Féin will hold a referendum to create a constitutional right to housing for all.
Relevant policy documents:
Sinn Féin Alternative Budget 2020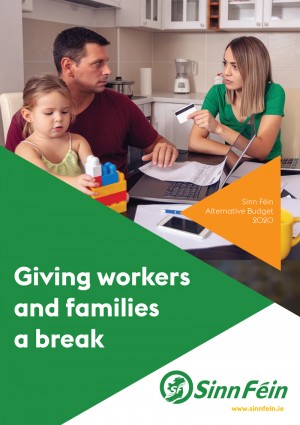 Achieving Energy Efficiency in Housing